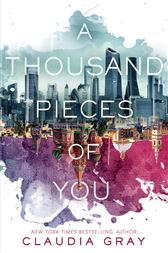 "I would love you in any shape, in any world, with any past. Never doubt that."

– Claudia Gray, A Thousand Pieces of You
A splendid concoction of advanced scientific concepts and an adventure fiction.
Summary
Artist Marguerite Caine's parents are well-known physicists; their most astonishing invention, called the Firebird, allows users to jump into multiple universes—and promises to revolutionize science forever. But then Marguerite's father is murdered, and the killer—her parent's handsome, enigmatic assistant Paul— escapes into another dimension before the law can touch him.

Marguerite refuses to let the man who destroyed her family go free. So, she races after Paul through different universes, always leaping into another version of herself. But she also meets alternate versions of the people she knows—including Paul, whose life entangles with hers in increasingly familiar ways. Before long she begins to question Paul's guilt—as well as her own heart. And soon she discovers the truth behind her father's death is far more sinister than she expected. 
and TBH
This book honestly… is a breath of fresh air. After taking a relatively long break from reading due to other parts of life getting in the way, this book got me back into reading. I'm very picky when it comes to books I adore, and I have a very bad habit of only finishing books that I like and abandoning the rest; however, despite these very specific requirements, A Thousand Pieces of You prevailed, and it is now on my 'Favorites' bookshelf.
In the beginning of the book, I wasn't sure how it'd go. The stereotype of an average, artsy daughter belonging to an extraordinarily brilliant, science-y family seemed too…stereotypical. It was a trope that I have seen over and over again, so I was a little skeptical going into the book itself. However, the easy chemistry between the family members and their individual quirks made their being common a little less so. I think that the character archetypes themselves weren't anything out of the ordinary, but the characterization was done quite well and, in a world where the inter-dimensional versions of yourself only vary by small degrees, it needed to be executed carefully and masterfully in order to have the impact desired. This, I can say, was achieved.
The plot was my favorite part of the whole thing. Pulling off an adventure-science-fiction about inter-dimensional travel and alternate realities in a way that doesn't totally lose your reader is no easy task. Gray was able to dumb down immensely advanced scientific topics to a level that was understandable but didn't completely dilute its complexity and beauty. Unfortunately, there isn't a lot I can say about the plot because of my 'No-Spoilers' policy, but I will say that it was one hell of a rollercoaster ride. There were many twists and turns, and I wasn't left bored on a single page. My family got to hear what Marguerite was up to every few nights at the dinner table, and I'm sure they would vouch for the fact that A Thousand Pieces of You is definitely a captivating read.
A Thousand Pieces of You by Claudia Gray is an exciting journey for the reader which will keep you hooked until the very last page. I know that when I got to the end, I had no idea it was the end, and that's how I think every adventure novel's plot should go–never should it plateau off or decline into a boring resolution. In my opinion, a successful and enticing adventure novel should leave off shortly after the resolution has been achieved and the tension and adrenaline from the climax is still coursing through the veins of the pages. This is exactly what A Thousand Pieces of You managed to do, and it is for that reason that I loved it so much.
Characters: 6.5/10
Plot: 10/10
Engagement: 10/10
Total: 8.8/10